The 2015 NBA Draft is over, and man was it an emotional rollercoaster. Heading into the draft there were some trade possibilities, some potentially Machiavellian maneuvering, and a list of potential draftees as long as my arm. I was hoping that either Mario Hezonja or Justise Winslow would slip past the Denver Nuggets at #7, but if not I was resigned to talking myself into Stanley Johnson. Well, we got Stanley Johnson, but not in the way that I expected.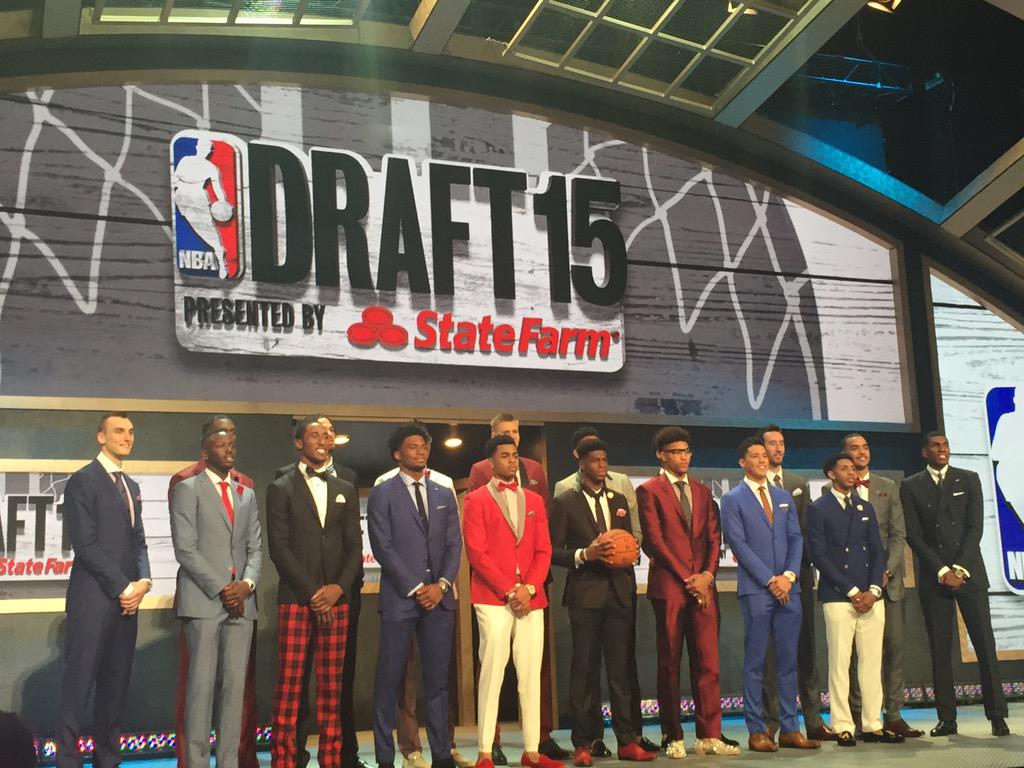 In order for either Hezonja or Winslow to slip to the Pistons at 8, 3 different things needed to happen.
Jahlil Okafor had to go in the top 3 picks
Willie Cauley-Stein had to be drafted before the Pistons went on the clock
Emmanuel Mudiay needed to be taken in the top 7 as well
Those were the 3 main things I was rooting for as we went pick by pick. Minnesota took Karl-Anthony Towns first overall, no big surprise there. The Lakers took D'Angelo Russell #2, which wasn't a surpise but it threw the first thing I needed to have happen in jeopardy. LA was a 50/50 shot to take Okafor, they didn't. Philly had the #3 pick and already had taken big guys in the last 2 drafts. I thought Mudiay might've been the pick there, or Porzingis, or... who knows. GM Sam Hinkie is pretty unpredictable. He took Okafor.

This screwed the Knicks at #4 big time. They desperately wanted Okafor or Russell. I thought Mudiay would've been a good consolation prize, but they went with Kristaps Porzingis. This drew a strong reaction from the New York crowd.
My favorite was the kid who was trying to boo while taking several selfies of his cryface. I can't take your anguish seriously if you're more concerned about posting pictures of it to social media. I felt bad for Porzingis. It's not really his fault Philly took Okafor. I thought he was one of the best 3 guys available at that point, and I hope he shoves it in the Knicks fans' collective face. Anyway, Porzingis going 4th meant Orlando was grabbing Hezonja (the guy I wanted most). That left Mudiay and WCS still in the wind, and Winslow as the top guy available on most draft boards.

The next two picks were pretty intense. WCS went 6th to Sacramento, knocking down my 2nd requirement to get Winslow. Mudiay then went 7th to Denver, filling requirement #3. Winslow was available. Then Adam Silver announced Detroit was drafting Stanley Johnson. I was pretty frustrated.
A lot of people have compared us taking Johnson over Winslow to how we took Kentavious Caldwell-Pope when Trey Burke was available. The fans really wanted Burke, KCP was a "meh" prospect, but Dumars went with KCP. I actually don't think that's the best example. A better hypothetical example would be if the Kings had taken someone else (say, Burke or someone like that) ahead of the Pistons, leaving Ben McLemore available, and the Pistons still had taken KCP. McLemore was a better prospect who played the same position as KCP, like Winslow and Johnson.

Comparing the two prospects, Johnson is slightly taller, not really longer, but more muscular than Winslow. On the other side, Winslow is more athletic, shot the ball better, and defended better than Johnson did last year. I saw a lot more of Winslow in the NCAA tournament than I did of Johnson, and Winslow impressed the hell out of me. Johnson did not. That doesn't necessarily mean that Winslow will become a better pro than Johnson, but he was certainly a better prospect.

***

Moving past what-might-have-been, what is the outlook for the Pistons going into the 2015-2016 NBA season? What did they actually get in the draft?
Pick #8, Stanley Johnson - SF Arizona
Age: 19 yrs old; Ht: 6'6.5"; Wt: 242 lbs
College Stats: 13.8 ppg, 6.5 rpg, 1.7 asts, 1.5 stls, .446/.371/.742 shooting %s
Look, he's not bad. He's pretty good on catch & shoot threes, he's a solid defender, and he has an ok handle. I'm a bit worried about the rest of his offensive game. If he wasn't shooting a 3 or scoring on a fast break, most of his other buckets came off of floaters in the lane. This wasn't a very high % shot for him in college, and it'll be worse in the pros. He needs to develop a better face up game, and probably work on his post game as well. He has the size & strength to guard LeBron and not get backed down. I'm not sure he's as quick as he needs to be. We'll have to wait and see. Detroit should be a much better defensive team next year, at any rate.

Pick #38, Darrun Hilliard - SF VillanovaAge: 22 yrs old; Ht: 6'6"; Wt: 220 lbs
College Stats: 14.3 ppg, 3.1 rpg, 2.1 asts, 1.8 stls, .440/.387/.796 shooting %s
Hilliard is a 4-yr college player, so he has less upside than does Johnson, but he should be a solid backup. He'll play either the 3 or the 2 off the bench, and he basically comes in as a somewhat unathletic 3 & D guy. Given the dearth of depth at the 3, I think he plays right away.
Free Agent Needs
Now that the draft is over, we can start thinking about filling the remaining holes in free agency. Monroe is gone, we'll probably re-sign Reggie Jackson, but it gets murky after that. They might explore trade options for Brandon Jennings, but more likely they'll keep him and hope he boosts his trade value when he comes back from his injury. That leaves 3 or 4 possible positions to fill: backup C, PF, SF, and SG.
There are a number of solid options at backup C. Robin Lopez, Omer Asik, Marreese Speights, and Brandan Wright could all be had for something in the $3M - $6M range. Alexis Ajinca is a very solid, low-budget option, or they could take a flyer on a guy like Jeff Withey.
At PF, the Pistons could throw their checkbook at LaMarcus Aldridge, Kevin Love, or even Millsap and hope they say yes, pushing newly acquired Ersan Ilyasova into a backup role. They could take a middle road and go for someone like Thad Young or Brandon Bass to compete for a starting role (Ilyasova probably keeps his job in that scenario), or they could go for depth and get a backup like Ed Davis or Amir Johnson.
SF is less of a need now, but I think the Pistons still need depth there. It's looking less and less like Detroit could even sign a 2nd tier option at this position, given that they really do need to spend at PF and they used the 8th pick to draft a SF. None of the 2nd tier guys would come here to either backup or caddy the starting SF spot for Stanley Johnson. I think Omri Cassipi or Jared Dudley could be had off the bargain bin and flourish in Van Gundy's system. Khris Middleton would be a slightly more expensive option, but I'd really like to get him back (not one of Dumars' better trades).

The Pistons have a glut of SGs, but none of them are very good. KCP took a nice step up last year, but his shooting numbers still weren't ideal. It doesn't really make sense to sign a SG, especially if Meeks' 3P% in the last 2 months of the season indicate he's worked out his shooting woes. However, based on the uncertainty at this position, SVG shouldn't rule anything out. That goes for PG as well, except that there aren't any good PGs available.
I'd like to see Detroit sign Alexis Ajinca for $1M/yr, at least make an offer for Aldridge (it won't happen though)

and ultimately end up with Bass or Davis for about $5M/yr, and then sign Middleton for around $8M - $10M. Milwaukee can match for Middleton, so if we want to get him, it'd have to be an overpay. If we were able to pull that off, here's what the Pistons' depth chart would look like next year:

PG: Jackson/Jennings, Dinwiddie
SG: KCP, Meeks
SF: Johnson, Middleton
PF: Ilyasova, Tolliver, Davis
C: Drummond, Ajinca

All things considered, that team could make the playoffs in the East. No way they get home court, but they could be as high as a 6th seed. I tend to be overly optimistic though, and their floor is probably 30-ish wins again. I'd certainly like their odds better had they drafted Justise Winslow.