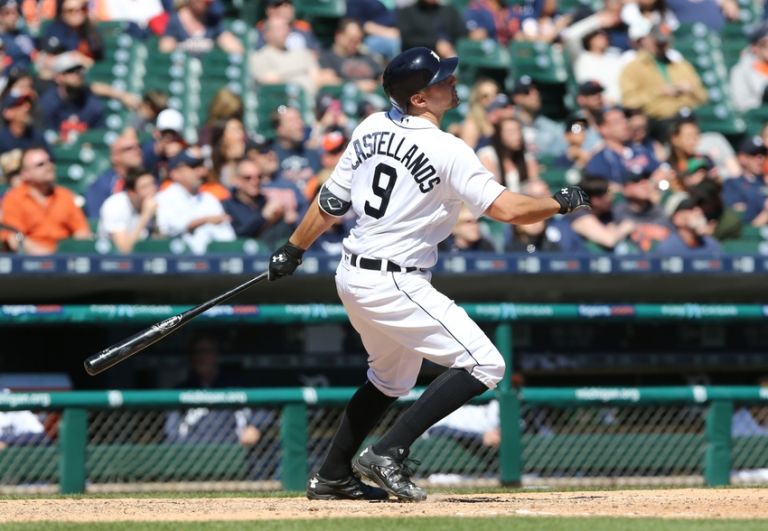 It's May, the Pistons and Red Wings are bounced out of the playoffs, the NFL Draft is over, the NBA Draft isn't for another month & a half... Time to talk Tigers!

The Tigers are 25 games into the season and stand at a healthy 14-11, after last night's abysmal performance by Verlander. The team, like Verlander, has been pretty hot & cold, and they've gotten boosts from unexpected places while getting slumps from others. Currently, the Tigers' best hitter is NOT Miguel Cabrera, JD Martinez, Victor Martinez (although he's actually 2nd best, which is also kind of a surprise) or Justin Upton, but Nick Castellanos. Nick was a pretty big prospect coming up, but he'd been a disappointment so far, both with his bat and with his glove. His batting average was in the .250s his first 2 seasons, and his HR, RBI, and other numbers were pretty mediocre. Currently he's leading the AL in hitting with a .368 BA, roughly 100 points higher than he'd ever hit before. He's got 4 HR and 19 RBI, which put him on pace for 26 HR and 123 RBI through 162 games.

It's dangerous to extrapolate such a small sample and set it as an expectation, and that's not what this is for. I'm trying to highlight his hot start, and put it in perspective with what he's done in the past. Castellanos has never had a month this hot in his career. He picked up the hitting in the last 3 months of 2016, but even then he didn't have a month where he hit .290. Based on his strong-ish finish in 2015 and REALLY strong start to 2016, I think we can expect a breakout performance from Castellanos this year.

Victor has started well and that's a good sign. Kinsler's been really good in the leadoff spot. Saltalamacchia has filled in nicely for McCann and added some much needed pop in the bottom of the order. On the flip, Justin Upton has been striking out A TON (on pace for 252 for the season), but he's cut that down in the last 5 games and brought his average up from sub-Mendoza to .252. Cabrera's average got down to .206, but the next game he went 4 for 4 and really broke out of his slump. Since April 25th, he's on a 8-game hitting streak, during which he's popped 3 HR, 3 2B, and 6 RBI. Also, Cameron Maybin, one of the better offseason acquisitions, hasn't played yet and is due to come back soon.

As far as pitching goes... Well, the Tigers have flipped there. Historically, and last year especially, the Tigers have had pretty good starting pitching and a pretty bad bullpen. This year, Jordan Zimmerman has been excellent, but all the other starters have been mediocre to ATROCIOUS (looking at you, Mike Pelfrey). The bullpen this year has been the 8th best in baseball, according to fangraphs (the starting pitching is 19th out of 30, and without Zimmerman they'd be last). I love how good our 'pen has been, but the starting pitching is a Problem. Capital P. Verlander... ugh. He's had a couple of absolute stinkers already this year. His velocity is down, he's blaming bad pitching on his SLEEVES... I'm not optimistic. He could round up to a #2 or #3-level guy, but the Tigers either need to make a move or get a big year from one of Greene, Norris (still out with a back injury), Boyd, or Fulmer. They need a miracle.

The Tigers might be able to get by with a good offense, mediocre starting pitching, and good relieving - that formula worked for Toronto last year, although their offense was SWEET - but the offense and starting pitching has to improve or they're missing the playoffs.